Archive for February, 2014
One of the first questions Kenny always asks a founder is "what are you? give it to me in one sentence." Amazingly, that is a very difficult question for msot early stage founders to answer. I find that moment to moment that answer is living and evolving…and that it is rare (but extremely valuable" for someone to settle into a "one sentence" that is repeatable over and over again. Last night I went to a dinner hosted by one of our investors. It's the second dinner of it's kind that I've attended and they both followed the same format. There were about 10 attendees and the host asked each founder to introduce themselves and what his or her company did. Some people had very straightforward answers. One founder would say "we help small and medium size businesses advertise online…" another would say "we built a game called X" or "we help people find tickets for last minute events." Perhaps my blessing and my curse at Wildcard is that we don't fit so neatly into one simple line. I thought back to the first dinner about 5 months ago I think and I had to include an educational sentence or two on what a "card" was before being able to explain what Wildcard does. As I sat there last night, I had this nice feeling that the market and people at least in tech circles are up to speed on that. I was able to drop the educational context and arrive at a more concise introduction than previously possible. Last night I said "Hi my name is Jordan and our company is called Wildcard. We're focussed on an emergent unit of interaction on mobile called "the card." We see a future where cards replace webpages on mobile and we're helping consumers and brands with an online presence to explore that future." My introduction doesn't get into the how…but I realized that none of the other simple intro's explained the mechanics behind their value propositions either. It wasn't "we help smbs market online but we are better because of x, and y and z, and these are the dashboards we give them and blah blah blah…" it was just "we help smb's market online." So I guess Wildcard "helps consumers and brands with an online presence explore card based mobile interaction as an alternative to webpages." It's still a work in progress…and of course I want to explain in that sentence our 3 products, how they fit together, the beauty of structuring data and delivering it to any channel capable of accepting it…the elegance of replacing webviews in native apps and large social channels and how that ties into replacing Safari in the consumer's mind…but you don't get to tell a 15 minute story when people are going around a dinner table…you get one concise shot for people to decide whether they care or not about what you do…and the language that evolves around your company, product, and mission is the difference between success and failure in that context.
So yea, I'm going to try to wear this "one sentence" for a bit and see how it feels: "Wildcard helps consumers and brands with an online presence explore card based mobile interaction as an alternative to mobile webpages."
Read Full Post
|
Make a Comment
(
8 so far
)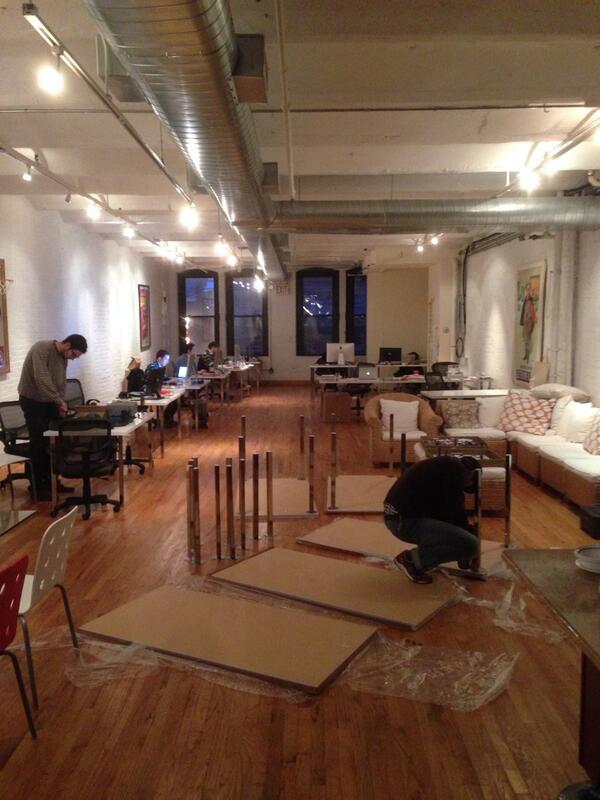 Like most startups, Wildcard furnishes our team with the finest desks Ikea has to offer. It might seem stupid…but some of my favorite days I have ever had building companies have been assembling desks with my teammates. When you are building software, you tend to interact with your growth and progress in completely virtual mediums. Whether it be graphs and analytics, or simply visualization at the UI layer of your product, when things are going forward you feel them on a screen or in your head…but rarely does your progress exist in a way you can touch and feel…rarely does the interface to your growth carry matter…
Every time I have screwed a screw into a washer into a shitty metal leg with a 2 cent allen wrench things have been going well. And the process of assembling that piece of shit furniture takes just long enough…is just inefficient enough…that you have no choice but to slow down and reflect on the fact that you are entering a new phase…that things are changing…and that growth is in the air. A cold hard calculation…playing it just by the numbers…would tell you that it's worth getting two dudes off craigslist to come assemble all the crap a startup buys at ikea instead of taking highly paid engineers, and designers, and founders away from what their work to sit and tinker with the heap of disconnected parts that will one day become office furniture…but that calculation misses… because it does not factor in the opportunity for a team to interact with their growth in a much more tangible…much more undeniable way than they are typically used to.
You can tell a lot about a new hire by his instinct on the day he walks into a room of pedigreed software engineers clumsily fumbling with "step 4: connecting the back of the chair to it's stem"…either he sits at his desk and walks through the setup of his new machine as he's been invited to do…or he pulls up next to you and grabs an allen wrench…understanding that the team is not building our product at that moment because we needed to make space for you who just arrived…because as you come in and we grow…our physical infrastructure needs to keep pace with our software development. Even on his first day, the new hire, at least our most recent hire, instinctually chooses to participate in our growth..because in the physical form it is truly undeniable. To me assembling crappy swedish furniture is a right of passage…some of my fondest memories of the last 6 or 7 years have been listening to tunes with my teammates…living in that very real physical metaphor of our progress toward a shared mission and vision.
Wildcard ran out of desks a few weeks ago…and for the first time as a company, we felt what it was like to blow past the infrastructure that at the time of it's creation was enough "for the foreseeable future." We moved beyond what was foreseeable, and are now settling into the new reality of today…Thanks Ikea…for giving us the opportunity to nick our hands and bleed on the unsmoothed edges of growth.
Read Full Post
|
Make a Comment
(
3 so far
)